Hit the road Jack, and come on back to Julia Creek for Dirt n Dust Festival 2023! We've got road trip ideas no matter what part of QLD you're coming from. Read on to get inspired and plan your outback adventure route and meet us in Julia Creek.
TOWNSVILLE
Up for a road trip? Julia Creek is easily accessible by heading west along the legendary Overlanders Way. This ultimate driving adventure follows in the footsteps of the driving pioneers who moved cattle from the wild Kimberley ranges in the outback to the bustling coastal markets on the tip of the Great Barrier Reef.
If you're really gung ho you could do it in a day, but why not make a time of it discover the many hidden gems along the Overlanders Way. Check out our self-drive itinerary to put together your trip, exploring a few of the other great outback towns along the way to Julia Creek! From ghosts to dinosaurs, you may be surprised what you find.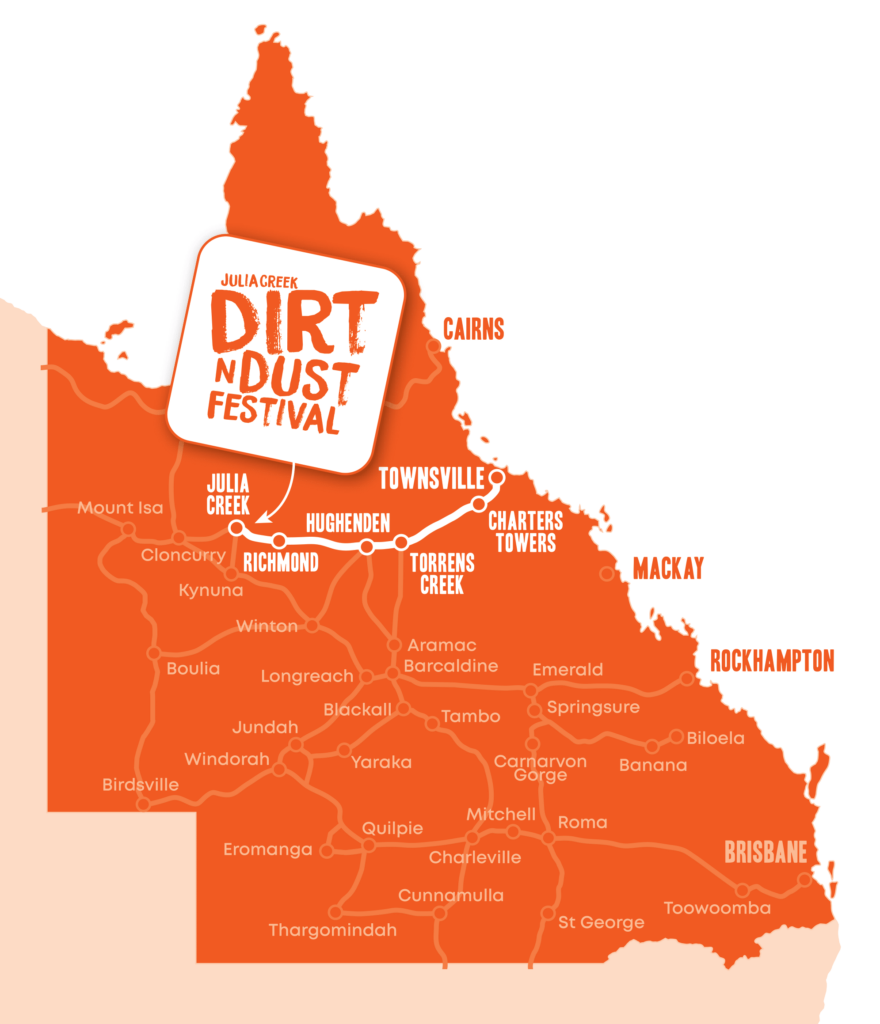 BRISBANE
For the longer drive holiday enthusiasts, there are easily accessible highways to Julia Creek from all directions and scenic outback drives to keep you entertained on the way.
If you're making the trek from Brisbane check out our full self-drive itinerary for inspiration to plan your drive through the outback. Hit some of the most iconic outback stops as you make your way up the Matilda Way! Heading west from Brisbane via Roma will join the Matilda Way in Charleville before heading North out to Julia Creek. If you've got the time, enjoy a slower paced 7-day trip and explore everything the outback has to offer, or cut out a couple of stops on the way to shorten your road trip!
However you get here, we can't wait to welcome you back to Julia Creek for the Julia Creek Dirt n Dust Festival 2023!
(don't forget to book your accommodation too – book your camping site today!)