We've got an incredible line up set to play at this years Dirt n Dust Festival, ready to keep you rocking late in to the night at the Dirt n Dust Central Friday and Saturday night concerts!
This year will feature rocking sets from Zac & George, Route 33, and Leigha Moore with our favourite Dee Jay Bux returning to Dirt n Dust to keep the dance floor going till the early hours.
Make sure you book your tickets today and get yourself down to Dirt'n'Dust Central for a party you wont forget!
Read on below for all the details on our 2023 Line-up artists.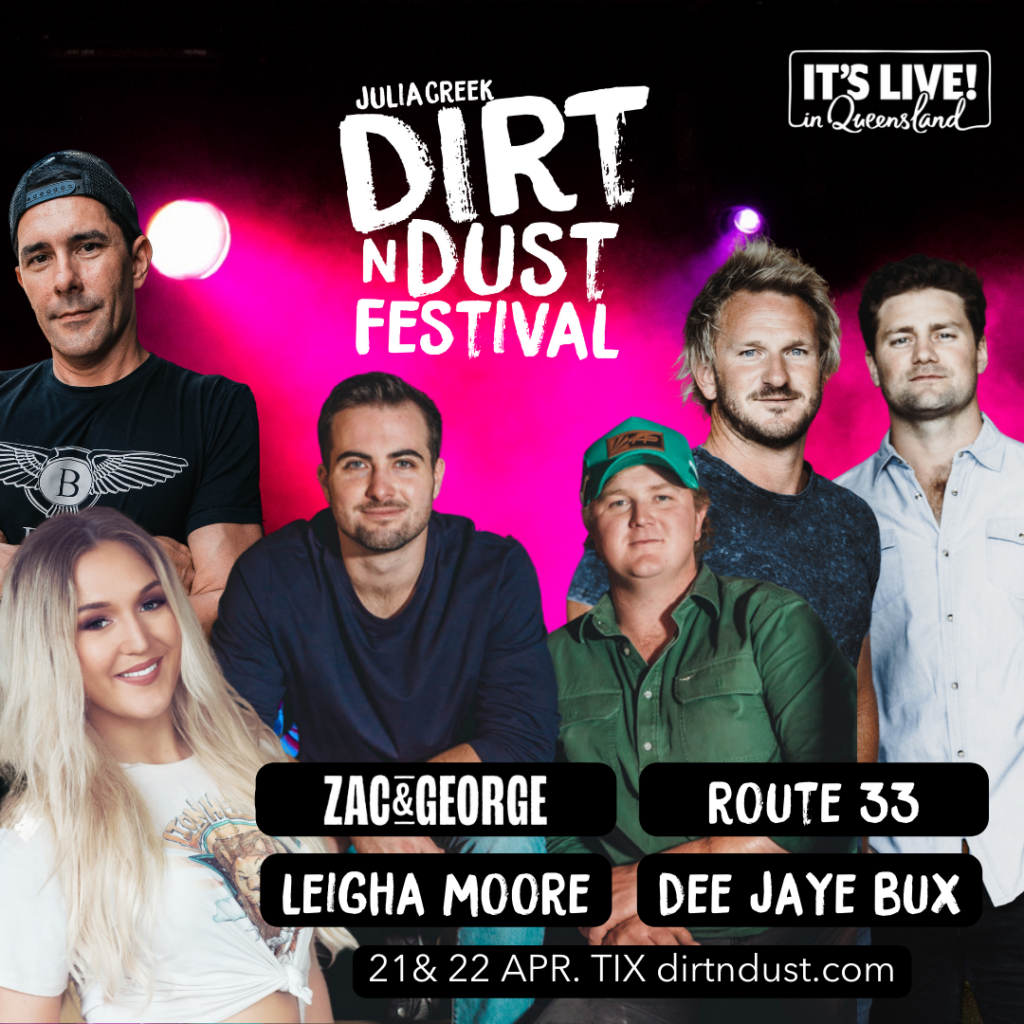 Zac & George
Saturday 22 April, 9PM – 11PM
Zac & George, originally inspired by iconic duo Simon and Garfunkel, have continued to broaden
their musical taste and most recently opening for James Johnston at a sold out show at the 2023
Tamworth Music Festival.
After spending months overseas playing shows and writing new music, and the release of their first two singles, which 'Red Wine & Roses' landed up on the cover of the well known editorial Spotify playlist 'Fresh Cover', Zac & George have released their third single, 'Bar Stool'.
Route 33
Friday 21 April, 9 – 11PM
Saturday 22 April, 11PM – 1AM
Route 33 is a Queensland-based Country duo, comprised of Jock Barnes and Trent McArdle. Jammed together on the sporting field one fateful afternoon, the pair have played together ever since and are now an ARIA #1 Australian Country charting duo.
With effortlessly catchy tracks, good-time personalities, infectious energy on stage, and a knack for crowd interaction, this duo have quickly become a fan-favourite – it's always a party when these guys hit the stage, you can't avoid their energy and connection with the crowd.
Since their first single release in November 2016, Route 33 have been featured on line-ups at CMC Rocks, Tamworth Country Music Festival, Gympie Music Muster and Groundwater Country Music Festival. That single, Last First Kiss was their first song to crack #1 on the iTunes Country Chart. Their debut album The Switch, from which the single was lifted, went to #6 on the ARIA Australian Country Album Chart, demonstrating that Route 33, the recording artists, had arrived.
www.facebook.com/route33entertainment
Leigha Moore
Friday 21 April, 4.30pm – 5.30 pm
Saturday 22 April, 4.30pm – 5.30 pm
Born and raised in Queensland running bare foot, wild and free on a small rose farm, surrounded by
cornfields and dirt roads, Leigha is not your average small-town girl.
Leigha Moore's debut single "See You Around" remaining in The Music Network Australian Country
Hot 50 for several weeks and cracked the KIX Country Network Top 20. Following her knock out performances at the 2019 and 2020 Toyota Star Maker Grand Final, Leigha was handpicked for three consecutive years to perform at Queensland's biggest beach bash "Country at the Beach" sharing the stage with Casey Barnes and multi Golden Guitar winners The Wolfe Brothers and Travis Collins.
Dee Jay Bux
Friday 21 April, 11PM – 1AM
Saturday 22 April, 1AM – 2AM
"Australia's BEST Country DJ" Dee Jaye Bux will keep you moving all weekend with the beats and
mixing it up throughout the DirtnDust Rodeo and grounds. Trailblazing the Australian Country DJ market, Dee Jaye Bux redefines and turns the country music genre on its head, bringing country goodness twisted with ultimate remixes and party anthems.
See him live on stage Friday and Saturday nights and onto the early mornings!